Day hiking is a great way to experience the outdoors when you only have a day or two to commit to your trip. While it may not need as much preparation and packing as a long trek or overnight hiking trips, you can still find yourself in trouble if you are underprepared. What should be an enjoyable trip down the trails can turn into a stressful, painful, or even dangerous outing if you find yourself not equipped properly.
When you are planning a day hike there are a lot of items you should consider bringing with you. Getting a pair of hiking boots from our collection of men's or women's hikers is a great start, but your preparation shouldn't end there. The Rocky Day Hiking Checklist will help you pack all the hiking essentials you need and keep your day on the trails a pleasant one.
What to Bring Day Hiking
Proper Footwear: When you're planning on what to bring on a hike it all starts with the boots or shoes that you're going to wear. Nothing will ruin a day hike faster than getting your feet wet or developing blisters halfway through, which makes it very important to keep your feet dry, comfortable, and stable. You'll need to consider things like the weather and the terrain you'll be hiking through. If you're going to be hiking in a dry, flat area maybe something light like a trail shoe will do. If the terrain or weather is going to be a bit tougher you'll want to go with a waterproof boot to handle rain, streams, or mud. We have a great selection of both to choose from for your next hike.
Taking care of your feet while day hiking doesn't end with the boots or shoes you choose to wear. The socks that you wear can have a big effect on your feet's comfort as well. When hiking, you'll want to go with something a little thicker with cushioning, arch support, and especially moisture wicking materials like the Rocky Sock available on our site. If you are particularly worried about keeping your feet dry on your hikes, the Rocky GORE-TEX® Sock is also waterproofed with GORE-TEX® fabric, a material that keeps liquid water out while letting moisture from sweat escape. If you let moisture build up on your feet or your boots are not laced well it can put you in danger of developing painful blisters. Tying your boots well and wearing a thin liner sock under your hiking sock can help with this. It's also a good idea to bring along some moleskin or duct tape to put over any areas on your feet that could start developing blisters during your hike.

Proper Clothing: Much like your footwear, there are different things to consider when deciding what to wear hiking. What will the temperature be like? Will it be windy? Is there any chance that it will rain? The answer to all these questions will influence what you should decide to wear. You will want to bring more layers and a jacket if the weather is going to be colder, but be careful not to wear too much and risk having sweat build up moisture on the inside of your clothes. In the heat moisture wicking and breathable clothing will make your hikes much more enjoyable, and even if there is little to no chance of rain it is always a good idea to bring along a packable waterproof windbreaker or poncho. They won't take up much space in your pack and you'll regret not bringing one along if you find yourself caught in a surprise downpour.
One last thing to consider when deciding what to wear day hiking would be the vegetation you might be hiking through. Even in warmer weather it can be a good idea to wear pants instead of shorts. Much like blisters on your feet, a rash from poison ivy, poison oak, or poison sumac on your legs will cause you discomfort well after your hike is over.
Skin Care: This is a short but important one. Nothing will ruin a hike quicker than a bad sunburn or becoming a meal for mosquitoes and other bugs. Bringing along some kind of sunblock and an insect repellent is recommended. If you would prefer to keep sprays or ointments off your skin, SPF protective and insect repellent clothing are also options worth looking into. It is also a good idea to bring along a lip balm to avoid chapped lips, especially in colder weather.
A Good Backpack: When choosing a day hiking backpack there are a few things you should look for. You want it to be water resistant so it will keep your things dry in rain. You want it to be able to hold all your day's supplies including food, water, and emergency supplies. Last, you want it to sit comfortably on your body, which requires cushioned, adjustable straps. The exact size of the day hiking backpack you'll want could vary, but typically somewhere in the 20-35 liter range is great for day hiking or even overnight trips. We've made the Rocky 30 liter Day Pack exactly for this purpose, which you can find exclusively on our site.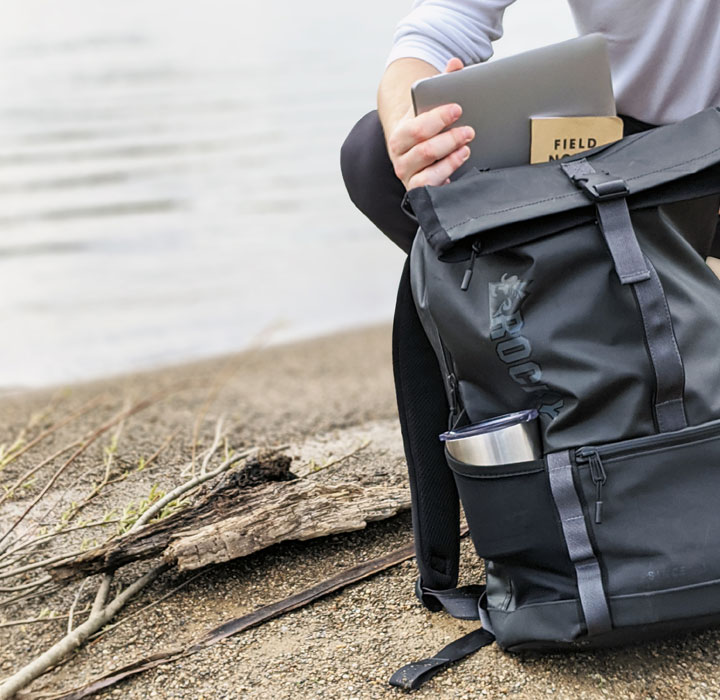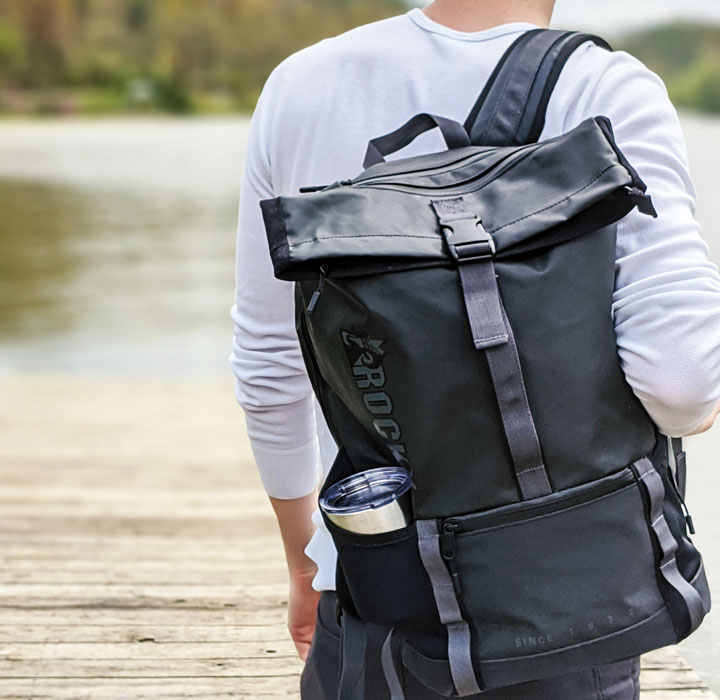 Enough Water and Food for the Day: Even if you are only planning on going on a short day hike, it is a good idea to bring more water than you think you'll need. For an all day hike a general recommendation is to bring two liters of water per person, but if the terrain is challenging or the temperature will be higher, it is a good idea to bring even more. A backpack water bladder or a couple larger water bottles should carry enough for this. For food, anything that can be packed lightly will work, but you may want to consider options that will boost your energy. Beef jerky, granola bars or protein bars, nuts, or dried fruits are all great options. Just like with water it is recommended to bring more than you think you'll need in case of emergencies.
Emergency Supplies: In addition to extra food and water there are a few other things you should bring along on a day hike just in case of emergencies. A first aid kit with some sort of antiseptic and bandages is a must. Some sort of water filtering or purifying device such as a UV purifier, filtering straw, or iodine tablets can help keep your pack lighter if you would prefer to carry less water with you. A good knife, some paracord, a waterproof lighter or waterproof matches, and some sort of emergency blanket or small tarp would also be recommended for a day hiking pack in case you find yourself in need of an emergency shelter. A backup power bank for your cell phone or other electronic devices should be considered as well, and if you are going to be hiking in an area with any risk of running into bears or other predators, a bear spray should also be packed in an easy to reach area.
Navigation Equipment: Before you go on any hike, especially on a new trail or in an unfamiliar area, you should look over a map and plan what route you plan to take. On top of looking into where you'll be hiking before you head out to the trail you should also pick up a map or download one onto your phone beforehand. A compass goes hand in hand with this in case it is needed for emergency navigation, but a better, more expensive option would be an electronic worldwide GPS Navigator. These will let you download maps or set markers for important locations and always send you in the right direction.
While there may be other items you would want to bring with you on a day hike, following this list will make sure you are prepared for any normal conditions you might encounter. You should also let close family or friends know where you are going to be hiking and when to expect to hear back from you before your trip, especially if you are going day hiking alone. After proper preparation, all that's left to do is lace up your boots and enjoy the outdoors.